BACKGROUND
In April 2021 BeMetals acquired privately owned Kronk Resources Inc. and its wholly owned subsidiary Kazan Resources ("Kazan") which holds the rights to a portfolio of advanced and early stage gold exploration projects in Japan. This acquisition provides BeMetals with excellent direct exposure to highly prospective gold exploration properties in areas of Japan known to have hosted numerous historical high-grade mines including, but not limited to, the currently operating Hishikari Gold Mine. The Company is currently planning the 2021 fieldwork program and expects to launch its first exploration program at the most advanced projects within the portfolio, including the Kato Project in Hokkaido.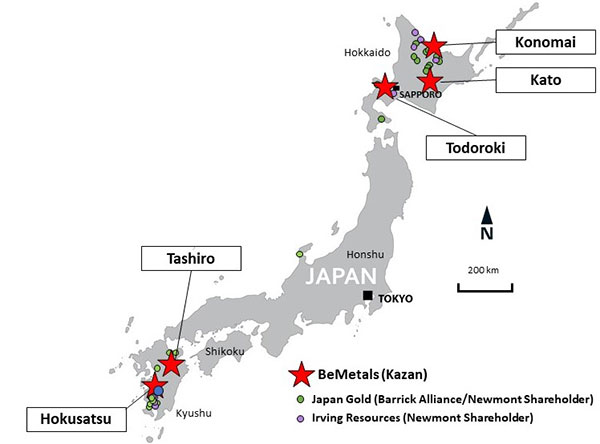 ABOUT KAZAN
The Kazan Gold Project is an expertly selected portfolio of gold properties, including the advanced exploration-stage Kato Project (Formerly known as Seta River Project) in Hokkaido. Kazan assembled this land position covering extensions and similar geological terrains known to have hosted numerous historical high-grade mines including, but not limited to, the currently operating Hishikari Gold Mine on Kyushu, which produced 7.9 million ounces of gold from 1985-2020 at an average grade of 30-40 grams per tonne gold.
Kazan has the rights to explore five project areas in Japan including the more advanced exploration stage Kato Project, Todoroki and Konomai Projects on Hokkaido, and the Tashiro and Hokusatu Projects on Kyushu.
To learn more about the exciting potential for high-grade gold discoveries in Japan, view our recent webinar by registering here.
PROJECT LOCATION MAP OF HOKKAIDO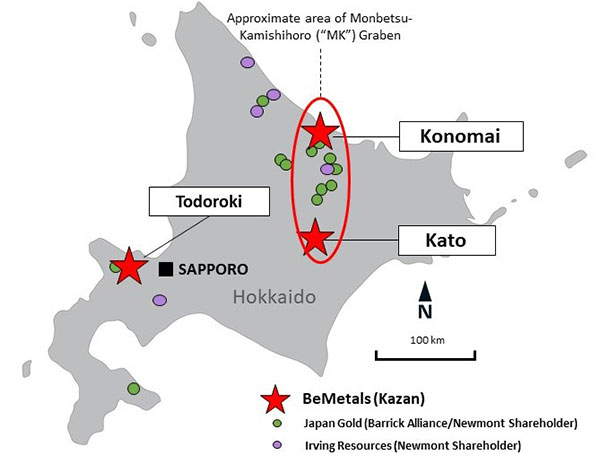 The Kato Gold Project is Kazan's most advanced exploration project and covers close to 2,000 hectares in Hokkaido. The property was drilled by the Japanese government's Metal Mining Agency of Japan ("MMAJ") in the 1990s and during that time intervals of high-grade gold including 17.5 metres grading 8.15 grams per tonne gold in hole 5MAHB-2 and 18.65 metres grading 5.01 g/t Au in hole 7MAHB-1 were returned. Little work was conducted on the property since the 1990s until the Japanese Ministry of Economy Trade and Industry ("METI") granted the prospecting rights to Kronk in December 2017.
From 2018-2019, Kazan completed several holes which successfully intersected a zone of hydrothermal breccia near the adjacent main target vein. KT19-02A returned a number of zones of gold mineralization including 14 metres grading 2.10 g/t Au without intersecting the primary target vein. In 2020, Kronk deployed a larger drill rig and reached the primary target zone, intersecting over 50 metres of hydrothermal breccia, vein breccia, stockwork, and banded quartz-adularia veins in hole KT20-010. The hole intersected 58.9 metres grading 0.76 g/t Au, including 7.4 metres at 2.99 g/t Au, and ended in 2.8 metres grading 3.1 g/t Au. The Table below illustrates these selected intersections.
Further drilling will be required to follow-up on this priority target zone and other associated highly-prospective targets, some of which have had little to no previous drill testing.
Kato Gold Project NI-43-101 Technical Report, Effective Date: July 14, 2021 (23mb)
Kato Project: Selected Historical Drilling Intersections
| | | | | | |
| --- | --- | --- | --- | --- | --- |
| Drill Hole ID | From (m) | To (m) | Core Interval (m) | Au g/t | Drilled By |
| 5MAHB-2 | 314.80 | 332.30 | 17.50 | 8.15 | Metal Mining Agency of Japan |
| 7MAHB-1 | 258.85 | 277.50 | 18.65 | 5.01 | Metal Mining Agency of Japan |
| KT19-02A | 120.48 | 177.05 | 56.57 | 0.80 | Kronk |
| Including | 136.95 | 164.50 | 27.55 | 1.40 | Hole did not reach primary target |
| Including | 150.50 | 164.50 | 14.00 | 2.10 | |
| KT20-010 | | | | | Kronk |
| Interval 1: | 165.30 | 224.20 | 58.90 | 0.76 | |
| Including | 167.70 | 175.10 | 7.40 | 2.99 | |
| Interval 2: | 229.80 | 232.60* | 2.80 | 3.10 | |
The Todoroki Project, in southwestern Hokkaido, Mapping and sampling of the existing mine workings within the property were completed and confirmed the prospectivity of the area. Further fieldwork will be undertaken to locate possible structures that could host gold bearing veins at depth. The Todoroki veins lie along a deeply incised canyon but other veins may exist where the level of erosion is shallower and failed to expose them.
The Konomai Project is located in northeastern Hokkaido. This land package is located in the northern part of a prolific zone of gold mining operations active in pre-World War II times. Most of the gold mines were shut down during the war years and were never reopened aside from Sumitomo Metal Mining's Konomai Mine, the largest in Hokkaido, which produced 3.1 million ounces of gold.
PROJECT LOCATION MAP OF KYUSHU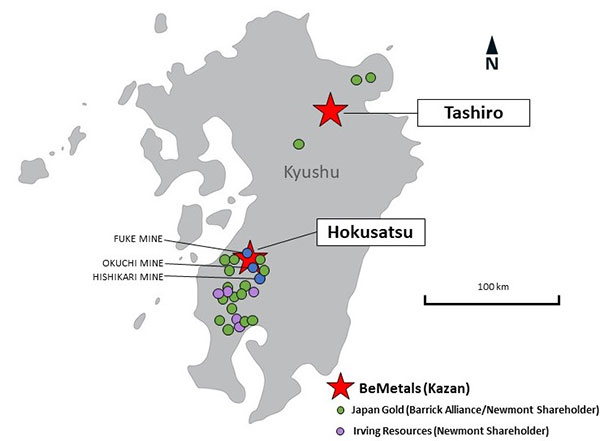 The Tashiro Project is located in northeastern Kyushu. In the 1990s, MMAJ conducted drilling on the property as part of a search for the next Hishikari Gold Mine, which is one of the highest-grade gold mining operations in the world. Mapping, soil sampling, and some geophysics were also undertaken, and the drilling program identified a vein swarm at what is known as the Noya zone where numerous highly anomalous gold intervals were intersected. Further fieldwork will be completed and it is likely a number of priority drill targets will be quickly generated.
The Hokusatsu Project is located in southwestern Kyushu. This property is of interest due to its close proximity to two important gold occurrences on the property near the former mines of; Fuke (historical production of 125,000 ounces at 10.5 g/t Au) and Ohkuchi (783,000 ounces at 13.1 g/t Au) Mines. In addition, the high-grade Hishikari Gold Mine is located approximately 16 kilometres to the southeast of the Hokusatsu property.